About Seasonings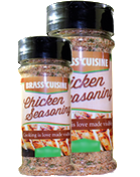 Brass Cuisine Chicken Seasoning
What's better than some Southern fried chicken seasoned with my bold blend of Brass Cuisine Chicken Seasoning sure to leave the family wanting more? Our Chicken Seasoning is great on baked chicken, soups, pasta, and BBQ. While it's great on chicken, it's also phenomenal on vegetables. Available in 5 oz. & 10 oz. Contains No MSG, Gluten Free
Ingredients: Spices, Salt, Dehydrated Garlic, Onion, Celery

Brass Cuisine Beef Seasoning
You haven't had a tender piece of pot roast or a juicy steak until you've had it seasoned with Brass Cuisine Beef Seasoning. Brass Cuisine Beef Seasonings is full of flavors from the Southeast Asia to Southern United States. It's finger licking good. Our Beef Seasoning is great on Beef, Pork, Lamb, & BBQ. Available in 5oz. Contains No MSG, Gluten Free
Ingredients: Spices, Salt, Dehydrated Garlic, Onion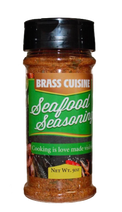 Brass Cuisine Seafood Seasoning
Have you had a piece of blackened fish with all your favorite herbs and spices on it? Look no further, Brass Cuisine Seafood seasoning is my Signature Seasoning that takes the place of all the seasonings you purchase to find the right flavor on seafood. It has a mild hint of spice yet flavorful enough to keep your taste buds dancing. Brass Cuisine Seafood Seasoning is great on all baked, boiled or blacked fish, shrimp & scallops. While it is idea for seafood, it can also be used in rice or pasta dishes. Available in 5oz. Contains No MSG, Gluten Free
Ingredients: Spices, Salt, Dehydrated Garlic, Onion, Sugar, Lemon Peel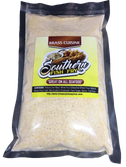 Brass Cuisine Southern Fish Fry
What's better than a crispy piece of Southern fried fish? Brass Cuisine Southern Fish Fry has its roots from the Louisiana region that you'll find enjoyable with your fish, shrimp, and oysters. You'll especially love it with your okra or green tomatoes. This seasoning packs a mild heat but a bold Cajun flavor. Store Fish Fry in a cool, dry place away from sunlight or heat
 in 10 oz. bags 
Ingredients: Yellow Corn Meal, White Flour (Bleached Wheat Flour, Malted Barley Flour) Salt, Monosodium Glutamate, Cane Sugar, Spices, Soy Flour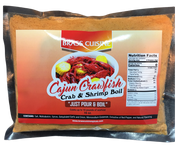 Brass Cuisine Cajun Crawfish, Crab & Shrimp Boil
People all around the world have discovered the fun and flavors of traditional crawfish boils; a Louisiana Delicacy. From family reunions to a small gatherings, nothing says "party" like a Louisiana Crawfish Boil. Get'chu a bag of my Cajun Crawfish Boil and take your loved ones on a ride through the South. Don't forget to throw in some corn, sausage, potatoes, mushrooms or anything you desire. Our Cajun Boil is great on shrimp, crabs and crawfish. Available in 10 oz. bags which cooks up to 10 lbs. of seafood.
Ingredients: Salt, Maltodextrin, Spices, Dehydrated garlic & onion, Extractive of Red Peppers, Natural Flavoring, Monosodium Glutamate.
---
Mission Statement
The mission of Brass Cuisine is to provide a unique southern Louisiana Creole blend of seasonings to use on all varieties of seafood, poultry and vegetables.